Whatever I Want To Draw Wednesdays – This Week: MEGAMAN!
on
November 14, 2012
at
8:00 am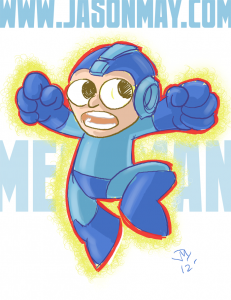 This week I had a request for Mega Man. How can I pass that up!? I love Mega Man! I love retro games! They are a blast. One of my favorites of all time is Mega Man 2. My parents bought that game for me for my NES when I was a young child. I spent many hours playing it over and over and over. Hover platforms, lasers and all sorts of gadgets. In fact, I still have this NES cartridge in my studio and will more than likely pop it in for an old fashion retro gaming romp! Enjoy! Please comment below for any requests or visit my Facebook Fan Page.
Also, the Holidays are coming up so you'll want to tell your friends and family to purchase your present at my Etsy shop! New prints and more to come! Thank you everyone for the support!