Funky Turkey – Happy Thanksgiving From Jason May – Illustrator
on
November 21, 2012
at
8:00 am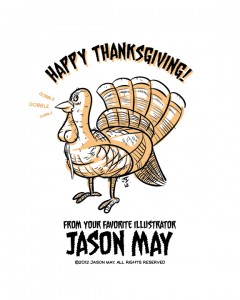 This weeks "Whatever I Want To Draw Wednesday" is brought to you by TURKEY.
It's that time of year again. Time to eat some turkey, stuffing, potatoes, green beans, cakes, cookies and more. Quite the holiday! Hopefully everyone will have a safe holiday. If you're considering shopping on Friday, please consider visiting my Etsy store. I'll try and post a few more items for you folks to pick up for friends and family for the Holidays. Please support small business at this time of year. It's a great way to support people who are not a giant corporation. Your neighbors need your support! We need some positive change. It starts with us. Thanks folks!
I've been toying with the idea of designing some wooden laser cut Christmas tree decorations to offer on Etsy. Comment below if you think that might be something that would interest you.